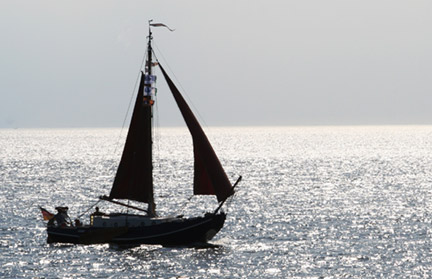 Who can't love sport that inspired Sperry's, sailor stripes, and discounts at stores? Just kidding about the last one. Sailing (or yachting if you prefer) is considered one of the preppiest of sports. Invented several hundred of years ago, it has aided in trade, land discovery, and travel. Fast forward to day dreams of hopping aboard a sailboat with a preppy man and sailing over to Bermuda, Hyannis, or St. Barts. Sailing is a must try for every preppy girl.
To prevent you from sounding like a total land-lubber, here are a few essential sailing terms:
Lines – Ropes on a sailboat
Halyards – Lines that raise the sails
Bow – Front of the sailboat
Beam – Widest part of the sailboat
Mainsail – Main sail ; )
Boom – Horizontal spar (or pole) usually attached to the main sail. Keep an eye on it!
Heeling – When the boat leans to one side
Galley – Kitchen
Head – Bathroom – Always check out the head situation on a sailboat. Very Important!