Two weeks ago, I was lucky enough to spend two days in Philly while my boyfriend was attending a conference. I have ran the Philadelphia marathon twice but never had a chance to really explore the city. On Thursday, I visited the Liberty Bell, Love Park and Rittenhouse Square then waked across town to tour Philadelphia Art Museum after climbing Rocky's iconic steps. Armed with a horrible sense of direction, I spent hours wandering through the streets soaking in the sights and big city vibes. Over two days I logged about 26 miles so naturally my favorite part of the trip was eating.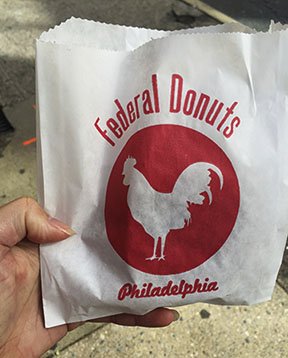 My new favorite doughnut shop would have to be Federal Donuts. They sell doughnuts and fried chicken and both are fantastic.The menu has a choice of fancy doughnuts with amazing flavors such as grapefruit brûlée or hot and fresh cake doughnuts dipped in powdery goodness. The hot and fresh doughnuts, like their name implies, are made to order. I caught myself licking my fingers in the store, they were that good. I also enjoyed the fried chicken, it is very fresh and seasoned with a choice of interesting flavors like the chili garlic glaze.
A few doors down from Federal Donuts on Sansom Street is Dizengoff, another of Michael Solomonov's restaurants serves a choice of humus. The silky humus topped with various meats and vegetables is a delicious Mediterranean meal served with a puffy pita bread, cucumber salad, and pickled vegetables. I recommend the lima bean humus.
Another enjoyable eatery is the Milk House on 19th Street which serves grilled cheese, ice cream and milkshakes. I had a gooey, melt in your mouth, Philly Cheesesteak grilled cheese on sourdough bread. I really wanted a milkshake as well but the doughnuts in my belly were saying "NO."
Before I left Philadelphia, I also dined at Parc located beside Rittenhouse Square. The restaurant overlooks the park and has plenty of outdoor heated seating evoking a Parisian atmosphere. However, the assorted breads are reason enough to go. For dinner, I ate the buttery Salmon Jardinere and sampled the pommes frites.
This is just a handful of the yummy restaurants in Philly. I'm hoping to go back soon and continue eating.