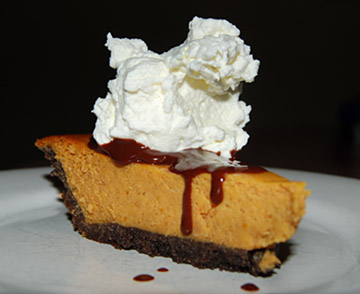 Last weekend I decided to combine two of my favorite foods: chocolate and pumpkin pie. The result was amazingly good and surprisingly easy to make.
Pie Ingredients
1 can of pumpkin ( I used the Whole Foods brand)
14oz. can of sweetened condensed milk
2 large eggs
9 inch chocolate pie crust
1 teaspoon ground cinnamon
1/2 teaspoon of ground ginger
1/2 teaspoon of allspice
1/4 teaspoon salt
heavy whipping cream
1. Preheat the oven to 425 degrees.
2. In a mixing bowl, whisk the pumpkin, condensed milk, eggs, and spices until smooth.
3. Pour the mixture into the pie crust. Bake in the oven for 15 minutes.
4. Reduce the oven temperature to 350 degrees and bake the pie for another 35 to 40 minutes or until fully cooked.
5. Top with chocolate and whipped cream.
Chocolate Sauce
1/2 of a cup semisweet chocolate
1/3 of a cup whipping cream
1/2 a teaspoon vanilla
1.  Heat the chocolate and whipping cream, stirring constantly over low heat until the sauce is smooth.
2. Stir in vanilla.
3. Eat!