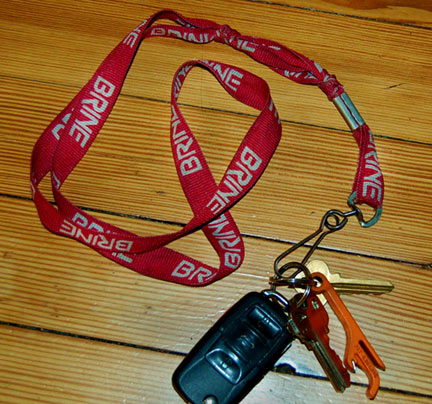 Do you remember lanyards, those silly ropes preppy guys used to wear around their necks? That is one preppy item I am glad to see has gone back into hiding. The preppiest lanyards sported the name of lacrosse brands, like Brine or STX. At the end of a prep's lanyard, you could find a bunch of keys and the all-important bottle opener.
According to Wikipedia, the origins of the lanyard are steeped in military tradition, they were "used to connect a pistol, sword or whistle (for signaling) to a uniform on a semi-permanent basis." Does this mean lanyard toters are harboring a secret wish to be a warrior?
On further investigation, I located a lacrosse forum, discussing the invention of the lanyard. According to the tag on a Brine lanyard: "Brine introduced the modern day lanyard at Hobart College in the mid-80's as a way to keep summer lacrosse campers from losing their room keys. The lanyard is now the standard tool for holding keys, I.D. cards, and other important items." Interesting…since no one had key chains prior to 1985.
As long as lanyards don't make a come-back, I will remain a happy camper.