While the rest of the Mid-Atlantic was shoveling out of the blizzard of 2010, my family, boyfriend & I traveled south to Cancun. Set as side what you may think about Mexico, Spring Break, and Montezuma's Revenge; Cancun is fabulous.  Mexican sunshine, white beaches, friendly people, and all of the seafood you can eat.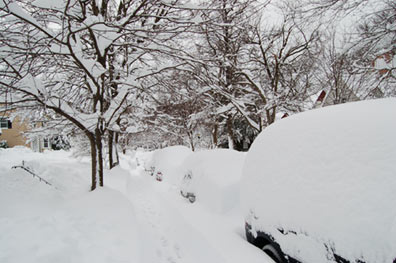 Getting there is half the fun:
Originally, we had booked a direct flight on Air Tran for Saturday morning–canceled before the blizzard even hit. Baltimore was blanketed in 26 inches of snow. Just thinking about the icy madness stresses me out, but I stayed calm because I was flying to Mexico on Sunday. When Maryland's Governor refused to open the local airport; chaos erupted, especially when Air Tran could not book us on another flight. Once the hysteria crested, my snowed-in family banded together forming a communication hub; phones, cell phones, the Internet, we were going to Cancun! We booked the first flight out of DC on Air Mexicana, who boasts of a full-meal and open bar on the plane–it sounded like heaven. After a snowy three hour ride and a night spent in a crowded hotel room, our flight took off on-time and landed in sunny Mexico.
Ahhh, Mexico!
Green grass, humidity, tropical breezes, and a laid-back attitude, I love Mexico. Thanks to my grandparents and their lovely timeshare, I have been able to spend one blissful week each February soaking up the sun at the Royal Resorts. I am always impressed with the service and facilities at the resort, the employees are friendly and the hotel is immaculate.
Cuisine:
There are so many great places to eat in Cancun. This year, I dined at my favorite Mexican restaurants and sampled a few new ones. I recommend Mocambo in downtown Cancun and the fish shack, located next to the upscale restaurant, La Habichuela (The Green Bean). I wish I could remember the real name of the restaurant, but it is fantastic; wonderful service, great margaritas, seating on the sand, and very reasonable prices. You know it's a good restaurant when you spot the locals eating there.
Adios:
After 5 relaxing days, we drank our last margaritas on the beach and said our goodbyes, before rushing to the airport to catch our 6pm flight back to DC and the freezing cold.