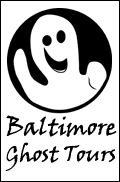 Sigh, it's undeniable, autumn is in full swing! With pumpkins popping up on every doorstep, there is nothing better to get you in the Halloween mood than a haunted hay ride or a ghost tour.
If you happen to be in the Baltimore area, I suggest checking out Baltimore Ghost Tours. They offer haunted history walking tours of Fell's Point and Mount Vernon, two of Baltimore's oldest and spookiest parts of town. Learn the ghost stories behind these beloved Baltimore neighborhoods. Haunted pub walks are also available if you want to get "close and personal with the spirits."
Named "Best Creepy History" by Baltimore Magazine, 2009, The Original Fell's Point GhostWalk and Mount Vernon GhostWalk are great ways to experience the supernatural side of Baltimore. The tours fill up fast, be sure to reserve your space today! Visit Baltimore Ghost Tours web site to learn more: www.baltimoreghosttours.com.
Need a Halloween costume?
Click here for The Preppy Life's fav preppy Halloween costumes.